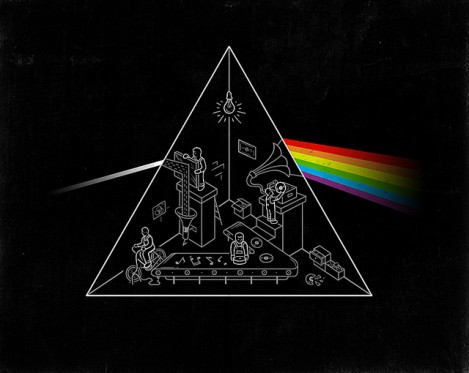 Dass Pink Floyd ein paradigmatischer Fall für die aurale Dimension von PHUTURAMA sein würden, war mir immer klar.
Dass es aber eine so tolle Innenansicht aka "Risszeichnung" vom Prisma des legendären 1973er-Albums The Dark Side of the Moon [1] geben würde, war eine schöne Überraschung, die mir das inspirerende BELIO-Magazin [2] bereitet hat. Die Illustration trägt den Namen The Dark Side of the Process.
Der weitergehende Link verweist auf einen Flickr-Profil von einem gewissen "enkel dika" [3], ich kann anhand des Profils nicht recht erkennen, ob es um originäre Arbeiten oder präsentierte Fundstücke handelt. Für Pink Floyd-Ignoranten hier ein gerade mal funktionierender YouTube-Link zu den ersten vier Minuten des Albums. [4]
[1] Wikipedia: Pink Floyds The Dark Side of the Moon
[2] BELIO Magazin Galeria
[3] The Dark Side of the Process enkel dikas auf Flickr
[4] YouTube: Die ersten vier Minuten von Pink Floyds The Dark Side of the Moon