Veranstaltungen 2011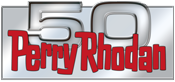 »Space Design – Die Risszeichner und ihr Bild vom Perryversum«
PERRY RHODAN WeltCon 2011
Samstag, 1. Oktober 2011, 16 Uhr
Congress Center Rosengarten Mannheim
PERRY RHODAN ist im Gegensatz zu Star Trek oder Star Wars ein vorrangig literarisch geprägtes Science-Fiction-Universum. Dennoch durchzieht den graphischen Auftritt des Perryversums ein einzigartiges "Look & Feel", welches auch dem Uneingeweihten signalisiert, hier nicht irgendeiner beliebigen, sondern der "größten SF-Serie" zu begegnen.
Welche sind aber diese prägenden Bausteine einer "visuellen DNA" des PERRY RHODAN-Universums? Wie haben sie sich über fünfzig Jahre hinweg herausgebildet? Werden sie Bestand haben? Sind es die typischen Kugelraumer, die schnittigen Space-Jets oder die multifunktionalen Shifts? Sind es der Mausbiber Gucky, die weißblonden Mähnen der Arkoniden oder ein doppelköpfiger Zünder-Mutant? Ist es das langjährige Wirken Johnny Brucks, im Verbund mit den einzigartigen Werken der ersten Risszeichnergeneration um Rudolf Zengerle, Ingolf Thaler und Bernhard Stoessel oder haben erst ihre Nachfolger diese Gestaltungsprinzipien verstanden, verstetigt und fortentwickelt?
Das Phänomen der "Risszeichnung" in der PERRY-RHODAN-Serie ist unter den besonderen Bedingungen des Ökosystems "Heftromanserie" in den 60er Jahren zur Blüte gekommen. Die PR-Risszeichnungen sind einzigartig fanatstischen Genre selbst und sind eines der herausragenden Alleinstellungsmerkmale der Serie selbst geworden. Auch wenn "spekulative Technikillustrationen" im Rahmen populärwissenschaftlicher Magazine immer auch eine techno-utopische Aussage beinhalteten, war es die einzigartige institutionelle Einbettung der Risszeichnungen als einem die Handlungswelt vertiefenden und beglaubigenden Romanheft-Extra, das sich über die PERRY RHODAN-Serie hinaus als eine eigenständiges ästhetisches Illustrationsgenre emanzipiert hat. Erst heute im Zeitalter der bildmächtigen globalisierten SF-Imperien gibt es Vergleichbares – und teilweise Besseres – in anderen SF-Welten zu bewundern. Was kann die Risszeichnung heute noch für die PERRY RHODAN-Serie leisten?
Auf Einladung von Klaus N. Frick moderiere ich am Samstagnachmittag, 1. Oktober 2011, 16 Uhr die Veranstaltung Space Design – Die Risszeichner und ihr Bild vom Perryversum im Musensaal des Kongresszentrums Rosengarten in Mannheim.
Auf dem Podium sind PERRY RHODAN-Autor und nebenberuflich offizieller "Risszeichnerversteher" Hubert Haensel, Lars Bublitz als Vertreter der aktuellen 3D-Risszeichner-Generation sowie Oliver Scholl, der vor über 30 Jahren mit dem Risszeichnen begann und heute als Production Designer für große Hollywood-Produktionen arbeitet – aber auch weiterhin für PERRY RHODAN Titelillustrationen verfertigt.
PHUTURAMA-Überraschungsgast ist Jürgen Rudig, der die Gelegenheit des WeltCons 2011 zum Anlass genommen hat, nach beinahe drei Jahrzehnten wieder Kontakt zum Perryversum aufzunehmen. Nachdem er vor einigen Wochen hier im Interview auf PHUTURAMA einiges zum Werdegang des umstrittenen Abfangjäger der neuen "Redhorse"-Baureihe verraten hat, werde ich ihn am Samstag fragen, wie er als Nicht-PR-Fan überhaupt zum Risszeichnen gekommen ist.
---
Veranstaltungen 2010
tm.10 Salon Talk PHUTURAMA – Symposium zu spekulativer, fiktiver und futuristischer Gestaltung und Produktion
(Sub-conference on speculative, fictitious and futuristic art and design)
Mittwoch, 3. Februar 2010
14:00 – 19:00
HKW – Haus der Kulturen der Welt Berlin
K1
Mit freundlicher Unterstützung der transmediale.10 FUTURITY NOW! – festival for art and digital culture – fand am 3. Februar im Rahmen der Salon Talks im Hauptfestivalgebäude HKW – Haus der Kulturen der Welt die erste öffentliche PHUTURAMA-Veranstaltung statt, zu der SF-Designer, Autoren, Medienkünstler und -theoretiker sowie SF-Enthusiasten aller Art eingeladen waren.
In close cooperation with FUTURITY NOW! transmediale.10 festival for art and digital culture PHUTURAMA invited dedicated futurists and enthusiasts to its first public event – a full afternoon symposium – in its Salon Talks track at the main festival venue HKW – Haus der Kulturen der Welt.
PHUTURAMA was accompanied by a Special Reception in line with the
c-base e. V. transmediale.10 & CTM.10 Partner Event PHUTURITY NOW!
Rungesstr. 20
Donnerstag, 4. Februar 2010
20:00